Every day the eCommerce business industry is increasing in demand. The local shops which are temporarily closed may never open again as consumers are adopting to online purchasing. 
Until the Covid-19 outbreak, purchasing goods online used to be a luxury choice with convenience and now it is a necessity. eCommerce has been raising for a while, and the digits below don't account for the recent events leading to a surge in eCommerce sales.
A lot of people out there wants to know how to start an eCommerce business in Sri Lanka. The amount of interest in starting the eCommerce business in Sri Lanka is unprecedented. Your goal should build a scalable and profitable eCommerce business that lasts. It is not about making quick money, you will have to have a long-term vision to build an empire that brings value to the market. 
How to Start Online Business in Sri Lanka (Step-By-Step)?
eCommerce business is a booming business. However, we have noticed that there are many online business struggles to get traction. It takes years to learn how to develop a successful and profitable eCommerce business. We have listed the main 7 steps that need to be taken to launch your eCommerce business. Use this information mentioned here to get your eCommerce website up and running. 
There's nothing more satisfying starting a business from nothing and seeing it grow. You grow it up and no one can take it from you.
Step 1: Research Ecommerce Business Models
Initiation of your research is the first difficult step. Upward any online venture is an asset. Treat it as such.
There is not a single business model/plan that works for everyone. Service-oriented business, software development, digital sales and physical products are just a few tips of the iceberg.
Before you can choose on what to trade online, you must to get an idea on the distinctive business models available in the market.
It is not rocket science; however, it does influence your business structure.
If you need to turn a profit without touching your goods or not willing to invest greatly at the start, dropshipping is a good idea for you. 
If you prefer the idea of owning your warehouse full of goods, and willing to invest more upfront and working with a wholesaling or warehousing model. 
If you got a business idea for a perfect product idea or if you are willing to sell your favourite products under your brand, look into white labelling and manufacturing. 
And then there are subscriptions, where you cautiously curate a set of products or a single product to be supplied at routine intervals to your subscribers.
The online eCommerce business model that appeals to me the most is a single product classification that you supplement with an affiliate promotion. You can work on a good content marketing and branding on a focused product and monetize the traffic to a specified product. 
Step 2: Start Ecommerce Niche Research
It hurts me when individuals email me their eCommerce site and it's packed with thousands of goods, lots of categories, and no actual focus.
Unless you have a huge budget or investment, you cannot be the next Amazon. You have to niche down to run a gainful online store.
Selecting your niche is the most significant step in beginning your online business. Begin this process by recognizing profitable companies already working in this space.
Make sure that the niche is competitive – an absence of rivalry usually indicates that there is no demand, either.
Don't pick an excessively packed niche, however, and skip whatever ruled by major brands. If you're having difficulty with this, drill further down on what you want to do – the more definite you are, the less rivalry you are likely to face.
Niche-ing down also offers you the advantage of having a lot of "shoulder" niches, linked to what you do, but not alike. You can work together with entrepreneurs in those niches to cross-promote, become (or acquire) an affiliate, and sprout your customer base.
It is recommended to choose the product category which works well in Social media and got a minimum of 1000 keywords targeted. 
If you can get a few affiliate marketing chances, you won't have to discomfort about shipping as much goods, but you can still make a profit.
Step 3: Validate Target Market and Product Ideas
Now that you have recognised a niche and business model, you might be excited to start searching for goods to sell.
Don't. Before you consider about product ideas, think about personas. You can not anticipate individuals to buy your goods if you do not know who you are vending to.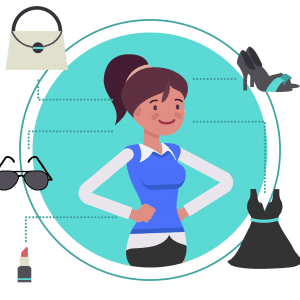 Who you are? What your store represents? Who is your perfect target market? You have to project a reliable brand image (a journey that starts with your brand name).
Once you have recognised the image you want to venture and the consumer you are catering to, it is time to come up with product ideas. I recommend beginning with one – you'll invest less at the beginning, and if you want to offer more you can test it with affiliate marketing.
For example, a toy store company, you can discover trendy kids' toys products on Daraz and produce content to direct traffic to those affiliate products. If it catches fire, you can think about creating your brand of that item. If you are not 100% confident on what to sell, you can make use of affiliate marketing to evaluate your idea.
Before you spend money in the product, though, validate it wisely. Even if you choose a dropshipping model, you need to test it properly and get an impression for the product yourself so you can recognise any possible difficulties and prepare client service scripts to answer usual questions.
Step 4: Register Your Ecommerce Business & Brand Name
If you need to begin a well-off business, you need a brand that links with your persona. Recognising your persona makes making an eCommerce brand cooler.  You may ignore girlie colours and pictures if you are advertising products to commercial businesswomen engrossed in living a defensible life.
But before you set up your online store and dive into the nitty-gritty of structure a brand – there are a few basic stages you will have to follow.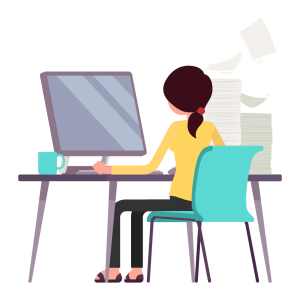 Register Your Business
Identify a brand name and register the company. There are legal advantages and tax benefits for incorporating your company. So, avoid skipping it.
Pick Your Store's Name
The legal name of your business and the name of the site does not have to be identical. However, keep them consistency which will add benefits. Make sure to choose the name which will fit the niche you are targeting so you do not have to change the name at last minute. 
Refer here to find the best domain registrars
Find The Right Vendors
Due to the competition selling products online, it is a must to find the best quality products with best prices. Always make sure the materials you choose are best in the market. Do your research until you find a good vendor whom you want to deal with a long-term. This includes the vendor to get your eCommerce website done as well. Always think about a scalable solution. 
Logo Creation
Get a good-looking logo done. Make sure the logo is not similar to your competitor in your niche. There are plenty of logo designers in Sri Lanka who will help you to get the logo done. 
Get Visual
Think the colours of your new brand, the images you'll use, and the fonts you will engage wisely. If you got sufficient funding, you might want to hire a marketing agency to design brief for your company. If not, you shall create it on your own. 
Step 5: Finalize Your Ecommerce Business Plan
By now you must have a good idea of what your online venture will look like. Along with the good brand name, now you know to whom you are going to market the niche product. Now it is time to create your business plan got your eCommerce website and plan your startup monthly budget and expenses. 
Financial is an important aspect of any business. Identify the breakeven point based on the number of units sold and duration (in months). 
Yet, it is really sad to see many founders don't take the time to project their income and overheads.
While making the business plan you will have to iron out details such as product sourcing, marketing budget, logistics and staffs. 
Step 6: Create Your Online Store
Once you've officially registered your new venture and begun thinking about web design, you need to register your domain name using top registrar online. 
There are plenty of eCommerce shopping cart platforms are available in the market. Choose the best available platform is not easy. You will have to carefully evaluate factors such as features, loading speed, payment gateway integration, SEO friendly, mobile-friendly, web development skills…Etc. 
Make sure the eCommerce platform you choose can scale with you and incorporate with trendy eCommerce spheres to raise your exposure.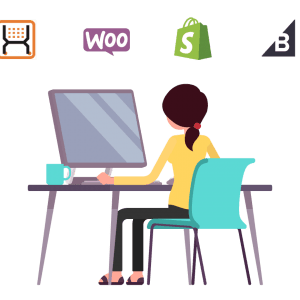 Building your online store might be harder than adding the products and content into it. Also, make sure to work on automated email marketing as well. 
Email marketing is essential to set up before you start getting traffic. Email marketing will help you to drive conversions. Make sure to set up email campaigns such as coupons, thank you notes, upsell opportunity and abandon carts. 
Think about your customer support as well. You shall enable the live chat options to provide priority support to your visitors. 
If you have difficulty in getting your eCommerce website done, look for the best web developers in Sri Lanka to get your eCommerce website developed. 
Here are some more articles on finalising the eCommerce websites for you.
THE TOP 10 BEST PRACTICES FOR RUNNING A SUCCESSFUL ECOMMERCE WEBSITE
10 WAYS TO SPEED UP YOUR WOOCOMMERCE SITE.
7 BEST WORDPRESS HOSTING OPTIONS (FUNDAMENTAL GUIDE FOR 2020)
WHAT ARE THE ADVANTAGE AND DISADVANTAGE OF WORDPRESS WEBSITE?
Step 7: Attracting Customers to Your eCommerce Website
Do you think the visitors will be just flowing once you launch the website? I am sorry to say it is a big NO. You need to market your store to get visitors. 
Your website should be optimised to be search engine friendly. 
You cannot do keyword-stuffing anymore. Those are old school technique. You will have to perform proper SEO on your website. You will have to make sure to have the keywords and search terms in all relevant pages, website URLs and ad campaigns. You will also have to think and create a strategy to drive traffic to your online store. 
Most of the eCommerce website which is successful in the market heavily invest their finance into online marketing. If you do not have sufficient marketing budget, you shall still perform those on your own by listening to the podcast, digital marketing articles, etc. 
Will you be using social media ads, sponsored content, PPC ads, or a mixture of approaches? How are you going to monitor which campaign is driving more traffic and generating more conversions? 
Not only your website but also the product you choose needs web traffic hence those also should be included in your marketing budget. 
Your aim should be to sell your goods, not just to gain traffic. To sell the products you will have to think beyond your comfort zone and expand the marketing areas. 
It does not matter what product you are planning to sell and how you are planning to sell, the main step you will have to take is to create an email list. Before the launch perform an opt-in, discount campaigns for those who visit the web link and also launch a social media campaign and gain subscribers. 
Perform give away campaigns which will increase the traffic quickly and it will increase the subscription list quickly. Besides, give away will help you to increase your brand identity. 
On the website, check how and where traffic flows. Check if your product pages are targeted to your persona? Are you losing customer traffic at certain places? If you are getting a great number of website traffic to your online store by nothing is getting sold online, then there are leaks in your sales funnel which needs to be resolved. Make use of the analytics tool to fix these loopholes. There are tools available for you to monitor and optimise every step of the sales process. Try those. 
Also, try to create affiliation marketing to boost your brands. Offer affiliation links to the retailers who are selling the similar products you got. 
Make use of bloggers who are specialised on your niche. Offer them free samples and get your product reviewed on their pages. Make sure you are getting sufficient numbers of reviews. If you are selling your goods on websites such as Daraz or Takas, one easy way to gain customer respect is by showcasing your customer feedbacks. 
Here are some more articles on how to increase your traffic digitally;
5 FREE TIPS TO INCREASE YOUR GOOGLE RANKINGS
TOP SOCIAL MEDIA GROWTH HACKS FOR YOUR BUSINESS IN 2020
Ready to Start Your Online Business
We believe this post of "how to start online business" answered the questions you had about starting an eCommerce store in Sri Lanka. If so, please share this with your contacts. We have spent years in helping business owners like you to develop their eCommerce website and also helping them to run successful digital marketing campaigns by performing SEO and Social Media Marketing. 
We at Tectera, the leading web design Sri Lanka, wish you all the best to get your eCommerce website developed. If you are looking for a web developer to get your eCommerce website done and if you are looking for Digital Marketing in Sri Lanka to increase your website's traffic, do not hesitate to contact us.