When it comes to Digital Marketing, Search Engine Optimisation (SEO) & Pay-Per-Click Advertising (PPC) are generally used words. Also, these two are considered as the best Digital Marketing strategy to stay competitive. 
Which one is better? SEO or PPC? The question everyone asks these days.  If you also got the same question, we got you covered by offering proper guidance on seo vs. ppc
In this article, we will be learning more about SEO vs. PPC and it includes;
1.         What is the difference between SEO vs. PPC?
2.         What are the pros and cons of using SEO?
3.         What are the pros and cons of using PPC?
4.         Which one is better? SEO or PPC?
5.         Should I use both SEO and PPC? 
SEO vs. PPC: The important difference between SEO and PPC
While looking into SEO vs. PPC, you have two differentiations to consider: Position and costing. While PPC ads display at the top of search results — above organic listings — you will have to invest on every click you gain from this. While considering organic traffic from SEO is free, however, your website displays underneath paid ads in Google's search results.
SEO vs. PPC: Your cheat sheet
This table gives a quick overview of the Pros and Cons of both SEO and PPC
SEO Vs. PPC
PROS
CONS
SEO
– It is free
– It is a long-term strategy with long term results
– Drives relevant, targeted traffic
– Prefers and suggests a user-friendly website 
– Faces challenges with rapid Google algorithm updates.
– Required ongoing maintenance 
– It requires time to get to the top 
PPC
– Gets the maximum visibility in Search Engines
– Immediate results in GoogleYou will get the complete control
– Provides flexibility
– An investment is required always.
– The moment you stop the ads, it will not show in search results anymore. 
– Deters some users
– Costs add up
– Should have in-depth knowledge to implement 
What to know about PPC
Still not sure what is PPC? In this PPC vs. SEO debate, we hereby explain the breakdown of PPC's definition, pros and cons. 
What is PPC? 
PPC advertising lets you exhibit ads in the sponsored results unit of each search engine's results page, and when that ad is clicked, you will be charged a fee. 
If you are looking forward to increasing your website traffic instantly, then PPC is the actual solution for you.  As a tiny sprint—because you can straightaway start showing on the 1st page of search results.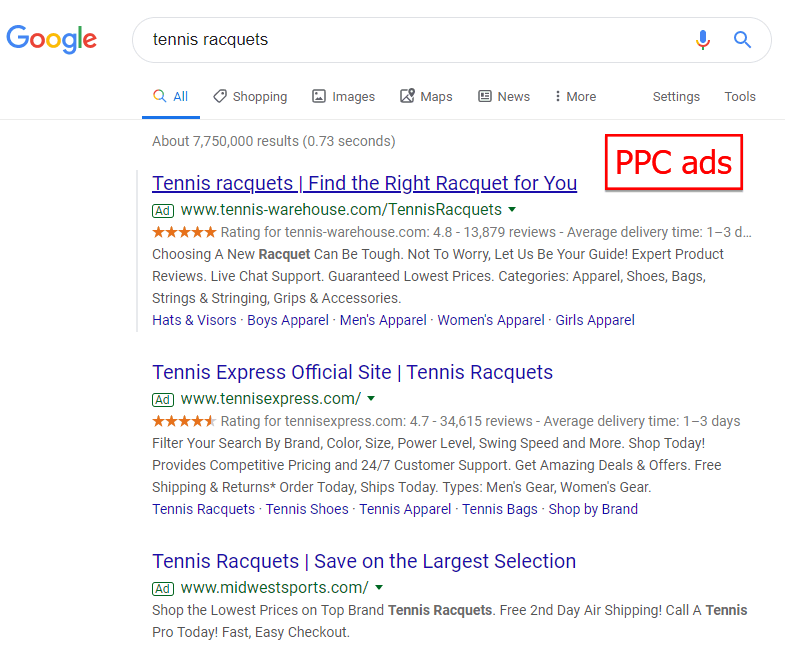 Your rankings with PPC are decided by how many bids you define for your keyword, the quality score of your advertisements, and the website/landing page that the ads outlet to.
The main consideration in determining between the two is the kind of cost you have to effort with.
PPC pros
The advantages of using PPC include:
•          PPC offers the highest visibility in search results
On most search engines, PPC lets your website to rank overhead the regular search results so visitors will see your website before your rivals. You can guarantee this occurs by bidding competitively on keywords that are treasured to your company.
To make PPC economical with high results, you can get a higher position and pay fewer for bids with a robust quality score.
A strong quality score refers that a high ratio of users who see your ads click on it and then stay on your website. That expresses the search engine that you are providing excellence info that is helping your users, and search engines want to keep endorsing you.
So, if you practice PPC to deliver relevant info to people attentive in your business, you will progressively pay less and less to attain the same rankings. That is the influence of a quality score.
•          PPC delivers immediate results
If you are initial launching a website or even a new start-up, you desire to get your latest website/name out there as quick as possible. PPC works a lot sooner in the short race of SEO vs. PPC, but quicker does not always mean long term.
This is also advantageous if you have special offers or events that need coverage and cannot be organised months in advance.
•          With PPC you get full control
With PPC ads, you got control over which web page the "visitor" is directed to.
By having control over the website/landing page, you can assure that the clicker is seeing the most applicable info to what your paid ad was showing.
The ads that are shown are composed by you and you can try them to see which ad achieves the best, which website/landing page is better for guests, etc.
•          PPC provides flexibility
You take the ability to select which keywords you need to bid advanced on, how much you want to spend per day, and even the power to stop your ads campaign if you are operating low on your budget.
You will also be able to set the position of your advertisements and the location wherever you want your advertisement to be shown.
PPC cons
Here are the disadvantages of using PPC;
•          PPC needs a continuous investment
Once the cash stops, the ads stop.
While you may get some exclusive traffic down the road, that unbranded search traffic will vanish when the ads stop running.
It also requires an extended time to build a decent quality score, which means you will pay a lot when you are beginning and continue to pay a lot in the upcoming months too. So even though PPC can reason, it is likely that you will not have the cost for it — particularly if you're a small business or start-up. 
Fundamentally, you are paying money to get your company found online, which shall take its fee on your marketing budget if you are not cautious.
•          PPC discourages some users 
PPC catalogues look like advertisements because of an ad tag and are expressly located where they are.
Many persons dislike ads decline to click on them, or honestly just have no idea what they are and do not believe them.
•          PPC costs add up
Even though you have the skill to regulator your PPC campaign budget, charges do begin to load up and you may end up expenditure more cash than you initially planned.

Traffic to your website with PPC is reliant on the cash you rain into it. If the keywords you are targeting are extremely competitive, they may be pricy and can gutter your budget fast.
•          PPC comes with a learning curve
PPC is problematic for a lot of businesses to start because podiums like Google Ads are slightly complex. It takes a lot of investigation and exercise to nail down an applied PPC campaign for any business, particularly when you are brand new to it.
What to know about SEO
What is SEO? In this PPC vs. SEO debate, we hereby explain the breakdown of SEO's definition, pros and cons. 
What is SEO?
SEO is the progression of receiving traffic from the "free" or "natural" listings on search engines, such as Google or Bing. SEO is long-winded, where it requires a lot of time to see the outcomes of your hard work. Your website is adapted or enhanced to help it perform higher in the organic listings.
These listings or position it gets ranked are decided by elements such as the reputation of your links and the relevancy of your content but changes certainly won't occur overnight. Besides, there are more than 200 SEO ranking factors that all stimulus how Google and other search engines position your website in their search results.
SEO pros
Here are the advantages of using SEO;
•          SEO is free
When you use SEO, your website will get a great chance to reach new clientele without you investing any funds straight to an advertising budget.
The result is fundamentally free aimed advertising.
That means your clients actively search for you in Search Engines, as opposed to you hunting for consumers, and they can find you in search results on Google. Then, you can take a few hours each day (or week) to generate new pages for your website that focus on keywords that are valued to your trade.
So, if you own a pizza show, you would want to focus a keyword such as "the best pizza in [your city]" to attract new consumers. The more web pages that you make, the more probabilities you have of engaging and enticing new consumers so your business can raise.
•          SEO delivers long-term benefits
Once all the SEO best practices are applied — like forming quality, keyword-rich content, and a robust linking profile — the results will survive your struggles. The return on investment for SEO will remain to hike long after PPC has peaked. That means your site will remain enticing consumers indefinitely.
•          SEO drives relevant, targeted traffic
SEO lets for the usage of long-tail keywords, which are three to five-word phrases that define a search term to be more aimed.
For exemplar, somebody who is looking for "wedding cakes" possibly is just doing some casual browsing or contemplating for ideas.
Someone who is looking for "wedding cake cost calculator" is additional along in the purchasing process. With long-tail keywords comes more applicable traffic.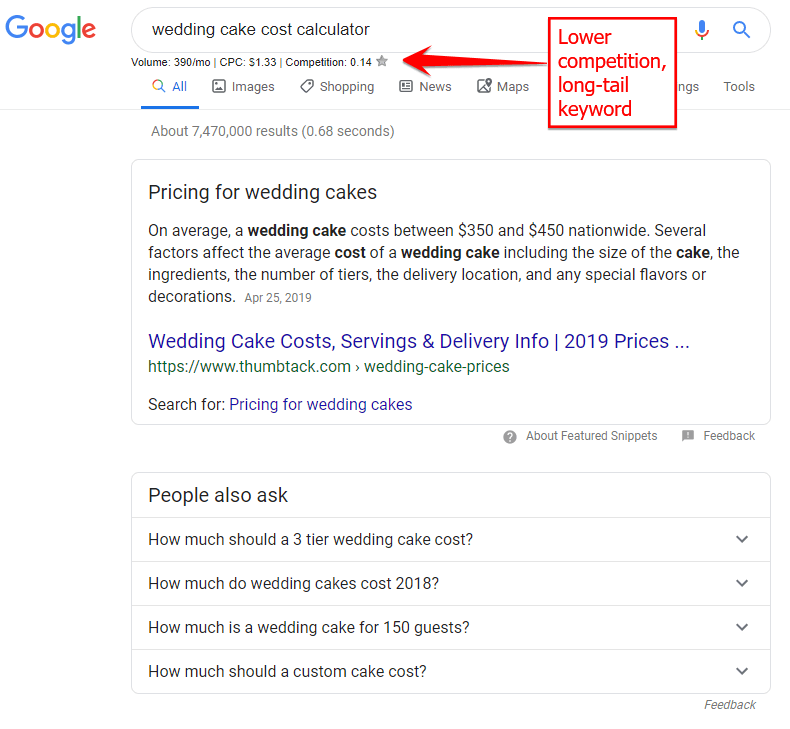 •          SEO encourages a user-friendly website
The key differentiation in SEO vs. PPC is that with PPC, your fee for the clickers, but with advanced SEO, you produce visitors by enlightening your site and trailing best practices. It may take a lot of work, but it's a respectable thing in the long run since the developments to your site's usability.
SEO cons
Here are the disadvantages of SEO;
•          SEO faces rapid changing Google algorithms
A top criticism about SEO is that all of the efforts you put into your website to get your site on the initial page results could be disturbed totally if Google issues new algorithm changes (which they do, at a degree of about 1.2 modifications each day).
•          SEO needs ongoing maintenance
Keyword research, content modernises, link building, and more are all influences of SEO that need to be frequently checked and modernized for your site to uphold positions or to surge them.
•          SEO takes time
Related to the prompt results of PPC, when you are relating SEO vs. PPC, the time lag with SEO can be a disgrace.
It can require somewhere from one to three months to see an upsurge in positions or traffic. This also varies on how much optimization is desirable for your site to even be prepared to launch.
If you do not want to pay an SEO Agency to do it, you will have to gear everything by yourself. Which means months of work with a slight payoff.
Even if you hire an SEO Agency, you are still seeing at a period of a few months before you see outcomes. The quantity of time it requires to rank well varies on the level of rivalry within your industry.
Which one is better? SEO or PPC?
There are advantages and disadvantages in both SEO and PPC. If you have to select one, most marketers endorse SEO. When it comes to cost effective, SEO is cost effective than PPC. That is since SEO can produce long-term web traffic and income at a more cost-effective amount than PPC.
Why you should use SEO and PPC together
If you have the potentials and reasonable budget, it is highly recommended to do both SEO and PPC. Because both works well together. 
SEO is greatest for long-term targets and directing specific, low-competition keywords that will last to return results until you complete erase your website.
PPC is excessive for short-term goals and pursuing high-competition keywords that are too saturated to effort in your SEO plan.
Essentially, when you use both SEO and PPC together, you get the muscles of both with negligible downsides. It still takes time to apply an SEO strategy, and it still takes capital to run PPC ads. But the joint revenue of both will counterbalance any negative qualities — and then some.
SEO vs. PPC : It is time to make your digital marketing decision
So, ought you begin running that marathon or lace up the sneakers and start the sprint? That query is up to you to choose.
Both PPC and SEO of digital marketing need to be considered, then from there, you can regulate whether SEO, PPC, or even both choices are the best fit for your requirements, aims, and financial plan.
If you're prepared to begin driving results with SEO, PPC, or both SEO and PPC, Tectera, the leading web design Sri Lanka and SEO Agency in Sri Lanka, provides expert SEO services and PPC services to clients across the country. Whether you need SEO services in Sri Lanka or PPC services in Sri Lanka, we have got you covered.